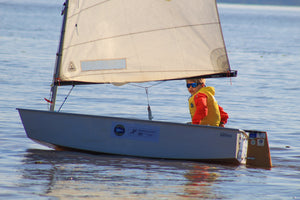 The Best Sailing Gear for Kids
Sailing is a great way for kids to get exercise, enjoy the outdoors, and learn about teamwork. But before you can set sail, you'll need to outfit your little sailor with the right gear. To make it easy for you, we've listed out some of the essentials in this blog.
Life jacket: This is the most important piece of gear, as it will help keep your child safe in case of a fall overboard. Make sure to choose a life jacket that is properly fitted and certified to AS 4758 (Australian Standard Level 50). We recommend the Vaikobi Kids PFD.
Wetsuit top: A wetsuit top will help keep your child warm and protected from UV rays. It's especially important to get an insulated wetsuit top for kids who will be sailing in the cooler months. We recommend the Zhik Spandex L/S top for the warmer months and Zhik Junior Neo Top for winter.
Sailing helmet: A sailing helmet will provide safety if your child is wanting to start racing. Keeping their head protected from any falls or booms. We recommend the Zhik Juniors Helmet.
Sunglasses: Sunglasses will protect your child's eyes from the sun's harmful rays. We recommend the Passport Kids Sunglasses.
Westsuit shorts: Wetsuit shorts will help keep your kid warm and comfortable out on the water. We recommend the Ronston Dinghy Shorts which have a thermal lining and also have quick-dry capability.
Waterproof jacket: Sail clothing is designed to be loose-fitting and comfortable, so that it doesn't restrict movement. It's also made from materials that will wick away moisture, keeping your child dry. We recommend the Ronstan Regatta Smock Top which has highly waterproof R-Tech10 fabric.
In addition to these essentials, there are a few other items that you may want to consider, such as:
A first-aid kit: This is always a good idea to have on hand, just in case of any minor injuries.
A sun hat: This is especially important for kids who will be sailing in hot weather.
A beach towel: This will come in handy for drying off after a swim or a spill.
A water bottle: This will help keep your child hydrated, especially on hot days.
With the right gear, your child will be ready to enjoy hours of sailing fun.
Here are some additional tips for choosing sailing gear for kids:
Make sure the gear is the right size. Kids grow quickly, so it's important to buy gear that will fit them for a few years.
Choose gear that is comfortable and functional. Kids should be able to move freely and easily while wearing the gear.
Look for gear that is made from durable materials. Sailing can be a rough sport, so you want gear that will hold up to wear and tear.
Consider the climate where you will be sailing. If you will be sailing in cold weather, you will need to choose gear that will keep your child warm.
With a little planning, you can easily find the best sailing gear for your child. If you still feel like you need a little bit of help, you can always contact us at sales@discountyachting.com.au, or visit us in our Geelong store!
---